"After traveling around the world and living on the Southern California beaches, I chose Ogden as my home. Ogden has the perfect setting to compete in the business world with close proximity to an International airport, transportation epicenter, a highly educated work force, and most importantly , an ideal environment to raise a family with respect for others and appreciation for the outdoors." Steven Van Wagoner
In 1997 Steven completed a tour in the United State Marine Corps which has supported an honor driven disciplined edge for business with emphasis on integrity and ethics.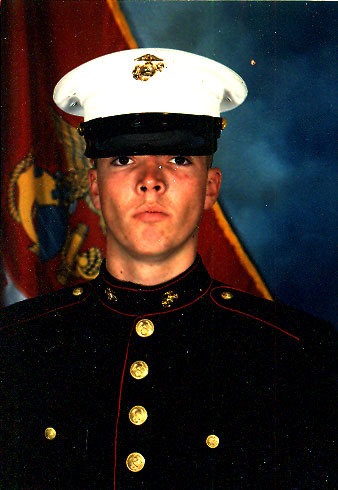 Steven Van Wagoner is a successful entrepreneur, starting his first business at the age of seven years old.  The objective of that business was to find golf balls hit out of range (identified opportunity), clean the balls (sweat equity), and re-sell the golf balls on the seventh hole of the Wasatch Range (recognized profit). That business quickly gathered the momentum at the direction of Steven whereas, he soon had his peers benefiting by searching out the golf balls, cleaning them, then he would take care of the selling on Saturday morning and they all split up the dough.  The unfortunate consequence was that Steven and his friends business started cutting into golf ball sales at the pro-shop.  After recognizing the action on the seventh hole each Saturday morning a new rule was implemented that stopped direct sales by "outside sales reps" on course property. That was just the beginning of his good old fashion work ethic and within weeks off the seventh hole, he was selling peacock feathers which he would gather cleaning a neighbor's barn. He would meet fly fishing enthusiasts every Saturday morning at the old post office in Midway, Utah each season and sell out every feather he had.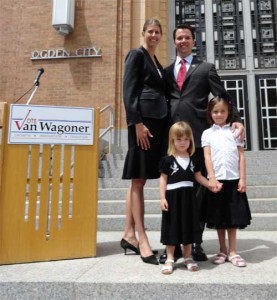 At the age of 23, Steven Van Wagoner was the President and 100% share holder of Current Solutions, Inc., an electrical integration and contracting company with a solid history of success located in Costa Mesa, Ca.  After the stabilization of Current Solutions, Inc., Steven began Surface Savers, Inc. a product development and Distribution Company out of Austria which provided "green" friendly products and retained the seal of the Green Building Council.  He retained the title of president of the company, though in 2005 sold 50% of company shares to outside interests.  In 2004, Steven founded the company Mesa Developers, LLC, for the purpose of securing commercial properties in California, for rental, re-development, and re-sale. The company continued to enjoy success under Steven's leadership until he moved back to Utah to raise a family. After making the decision to relocate with his wife Carey Van Wagoner, all companies were sold and a new family life in Ogden was ready to begin.
It was after traveling to Ogden, Utah in 2004 Steven was quoted stating "We arrived to what I can only describe as a sleeping giant, the historic buildings are grand, the arts are of importance, and something big is about to happen. I am going to be part of it".  Since moving to Ogden, Utah, in 2007 Steven purchased a Color Me Mine franchise which currently operates on Historic 25th Street and was sold in 2009. He is a business partner for an Award winning Children's Boutique, Little Cherry Blossoms, on Historic 25th Street. While building these businesses, Steven was also the founding partner of Ogden's only Business Brokerage, Junction City Brokers which unfortunately was closed in 2010. As part of serving others, Steven became a licensed Utah real estate agent and is currently working with the commercial real estate brokerage, PPC Commercial. Steven has given back to the community by volunteering and donating as much as possible. Steve has served on the Historic 25th Street Association executive board since 2009 and is currently the President of the Historic 25th Street Association. Steve also donates his time to AYSO teaching our youth the importance of team work and coaching a team of 5-7 year olds.  With his real life experience and involvement in his community, Steven knows Ogden and the challenges that we will need to face together. During the week Steven is often spotted going to lunch on a long board with brief case in hand or can be found on the weekends fishing, snowboarding, mountain biking, hiking with his family or charging the rivers. Steven is casual but relentless for the details and will work harder than anyone to protect you and the traditions that have made Ogden strong.